REBUILT.
with
REGGIE
Reggie Showers lost both of his legs at the age of 14 from a freak electrical accident. Determined to live his life to the fullest, Reggie's long list of accomplishments include; a two time IDBA Motorcycle Drag Racing World Champion, professional speaker, pilot, rock climber and adaptive snowboard instructor.
REBUILT.
with
HAVEN
Haven Shepherd is not your average competitive swimmer. When a suicide bomb left her a double amputee as an infant in Vietnam, her life changed forever. Today, at 16 years old, she walks on prosthetic legs and isn't phased by it for one second. Adopted by an American family at only 20 months old, she has lived in Missouri ever since.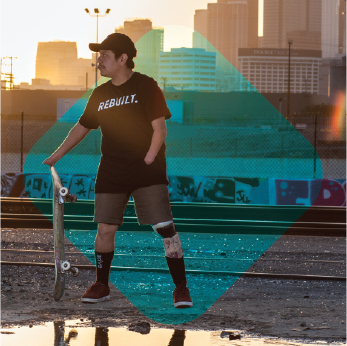 REBUILT.
with
OSCAR
Oscar was born with a congenital birth defect that caused him to be missing his left foot, his left hand and four fingers of this right hand. After countless doctor visits as a child, he learned and adapted to his prosthesis quickly. He learned to write with both his hands and lived a close to normal childhood. Soon after middle school Oscar and his mother moved to Downey, CA. Downey would now open Pandoras Box of skateboarding.
REBUILT.
with
ZACH
Zach Gowen continually defies the odds. After losing his left leg to cancer at age 8, he went on to become the first 1 legged professional wrestler in history. At 19 years old, he signed a 3 year contract with the World Wrestling Entertainment and was featured prominently on their television program Smackdown!